Hiking for health | Lifestyles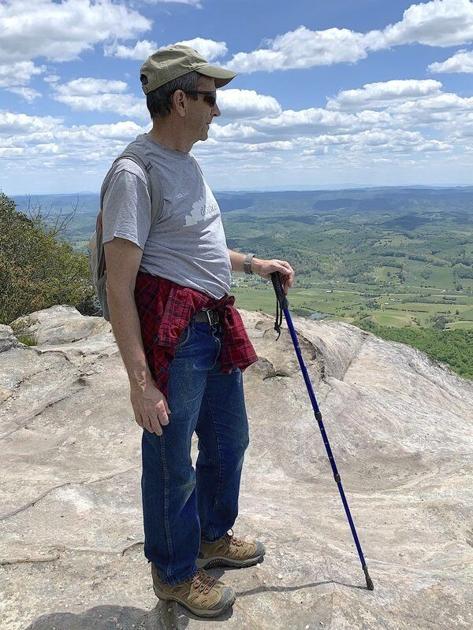 As a scout and leader of BSA 79 Troop, I had hiked the Misha Mokwa Trail, also known as the Cumberland Gap National Historical Park Ridge Trail, which borders three states. This weekend David Beatie and I hiked the ten mile loop trail to Sand Cave, one of Kentucky's Eight Wonders and White Rocks Viewing Area. The White Rocks are a limestone formation that informed the early settlers that they were only a day's journey from Cumberland Gap. The observation area offers spectacular views.
Spring is a wonderful time to plan a hike and enjoy the sweet scent of wild flowers. You can also see amazing things which are just a day away.
The first step is to prepare and plan the trip. Are you physically able to do a moderate or strenuous hike and possibly go to altitude? What is your level of experience? There are varying degrees of difficulty on the trails in many parks.
Prepare for your trip by contacting park rangers or visiting the park's websites. Are there any special regulations in the park? Are there any poisonous plants or animals that need to be taken into account or that support the sessions. Is a permit required, for example, for overnight camping? Are there any fire regulations?
Once you've planned your trip, avoid walking alone and let someone know your route, destination, and approximate return time.
Remember these essentials;
* Rugged rubber sole hiking boots with ankle support for dirt and gravel trails, no flip flops or open toe shoes. Tennis shoes can be used in an urban paved park. Break your shoes before going on a hike.
* Wool or synthetic socks that wick away moisture. Use a thin inner pair and a thicker outer pair to reduce friction and add extra comfort. Avoid cotton socks.
* Navigation devices such as a map, compass or GPS or personal locator beacon. Do not rely on a cell phone as there may not always be reception.
* Let the slower hiker set the pace. The ascent time of the hikes usually takes twice as long as that of the descent.
* Wear SP 30 level sunscreen or cloth clothing, sunglasses, and a hat or bandana. Depending on the weather conditions, a rain jacket or gear may be required. Dress in layers so you can take them off if you are hot or sweating.
* Take first aid supplies like bandages, Tylenol, and antibiotic ointment. Watch for blisters. An elastic knee brace can help with knee problems. One handy trick David showed me was to go down steps back to relieve the pressure on the knees, especially in the entrance to the sand cave or the White Rocks.
* Matches or lighter in an airtight container or fire starter. A flashlight is also very nice to take with you.
* Foods and snacks like salty and easy to digest trail mixes, nuts, granola bars and apples.
* Water and electrolyte drinks. In any weather, it's important to stay hydrated because of the amount of water you sweat and lose when you breathe. You may have access to a water source that requires you to purify the water. Stay well hydrated to avoid cramps and dehydration. Do not wait until you are thirsty to drink.
* The shelter in the form of a tarp or a space blanket is light.
* A sturdy walking pole is also ideal on the trail.
There are other trails to hike in the park, such as the Tri-State Summit, which are less strenuous and are only 3 miles in length. If you are going to visit the Visitor Center, please make the trip to Pinnacle Rock for breathtaking views of three states.
Dr. Drake is board certified by the American Board of Family Medicine and is a past president of the Kentucky Academy of Family Physicians and a member of the American Academy of Family Physicians. Dr Drake has practiced in Somerset since 1984.